For Softer Hair and Smoother Skin.
Millions own water filters to remove chlorine from drinking water. But 50% of chlorine exposure occurs in the shower. Unfiltered shower water can double your exposure to chlorine by absorption through the skin and by inhalation of chlorine vapors. AllPure filters chlorine for softer hair and smoother skin. Now you can fight brittle hair, dry skin and dandruff - where health and beauty begin - right in your shower .

Breathe easier with AllPure.
Chlorine vaporizes in hot shower water, and when inhaled in the lungs is transferred into the blood stream. Scientific studies have linked chlorinated water to potentially harmful by-products that can, over time, contribute to such health-threatening conditions as cancer of the bladder, liver, stomach and colon. Heart disease, high blood pressure and allergies have also been linked with chlorine. AllPure Shower Filters help reduce these risks - so you can breathe easier.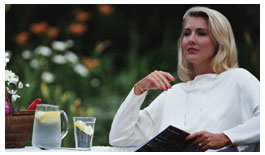 For Today's Healthy Home.
Shower filtration by AllPure is a logical addition for people concerned about home environmental issues including the quality of water and air in their homes. Help protect your home's personal environment and entire family with an AllPure filter in every shower.

The Allpure shower filter model AFR-600 has a replaceable filter element which is easy to change by simply unscrewing the shower head housing. The filter element should be changed every 6 months for peak performance.

To install the AllPure shower filter, remove old shower by unscrewing from riser, and screw AllPure filter head on to the shower riser.